Check out these hot deals & offers from our Top 10 must have pregnancy & best baby products of the year, for mum, baby & beyond.
The best, most natural, and organic, where possible, products sourced at the latest Australian Pregnancy & Baby Expo, by a discerning mum!
Here's to making early motherhood holistically healthier, easier, more joy-filled & beautiful.
Baby expos are crazy but fun! At this one, I got to chat to mum's & dads & kids all day long about holistic health & living, and pure plant oils.
Plus I got to try & drool about many an awesome new product that I wish I had when our little one was born!
I've put this list together because I wish I had it at my fingertips back then, packed with awesome deals if you act now!
Enjoy!!
1. Seedlings Baby Range – by Young Living.
I'm hooked on this range!
Our 22 mo was getting a persistent nappy rash due to his love of the sandpit, as the sand was getting in & irritating him. I had made ointments plus tried a couple of well-known natural brands which all helped but it was still flaring up fairly regularly.
We have not had a bout of it now since starting on the Seedlings Diaper Cream. Love it!
And we also love the Seedlings Baby Wash & Shampoo. This one is totally Daddy approved, who is mostly doing bath duty these days. It's no-tears, smells great & creates bubble fun too.
And of course, all the products are chemical-free & contain the most premium quality essential oils available.
Seedlings Kits are available at the special Expo price of $99 ($405 product value) until June 30th.
The Kit contains:
Seedlings Diaper Cream
Seedlings Baby Wash & Shampoo
Seedlings Baby Oil
A cute rubber ducky for bathtime fun
Plus we have thrown in a free Young Living Culinary Kit while stocks last
Purchasing the kit will also give you access to ongoing wholesale prices (24% off).
This is a special deal only available through Holistic Mumma, while stocks last so jump in before they go!
After the 30th the Seedlings Baby Bundle will still be available, which contains all the baby products mentioned above plus a few more such as lotion, wipes, linen spray, hooded towel & more, packed with premium Young Living essential oils
Makes an amazing gift for new mums!
2. 'itti bitti' cloth nappies
Comfortable modern cloth nappies that help to reduce our impact on the environment!
Soft bamboo & micro-fibre, these have won multiple awards for their design.
How gorgeous are they!
itti bitti are offering 15% off for Holistic Mumma readers only. Use the code itti15 on checkout.
We have just purchased the Pull-up Training pack for our soon-to-be potty training toddler.
Looks & feels great!
Go here

to check them out
3. Charli Chair
This revolutionary startup was featured on Shark Tank, and makes baby bathtime easy & saves your back!
Any other mums think this is an awesome idea? You could even shower at the same time since bub is safe & sound & right there with you.
Charli Chair are offering Holistic Mumma readers a free cushion pad with a CharliChair 2-in-1 plus a discounted rate of $160 (usually RRP is $189.95 plus $44 for cushion).
This is a great saving!
You can call 1300 558 056 and quote the code 'Holistic' to obtain this deal.
Like this Article?
4. Water Immersion Therapy for babies
Many parents who bring their child to this therapy find their baby is more settled at night and obtain a more fulfilling sleep. Water Immersion in a magnesium bath has been known to help with several mild medical issues your baby might be facing some of the common alignments being relief from colic and reflux.
My Baby Bubble Spa are currently running a June special – bring a friend for $100, that is $50 per baby (a saving of $45 each) for a spa session.
MBBS will extend the offer for Holistic Mumma readers only, until the end of July. Email them at [email protected] and mention 'Holistic Mumma' for the deal.
5. Jack n Jill toothcare
We recently purchased the Silicone Fingerbrush and have found that this makes teeth-brushing SO much easier, and it really feels like our toddler is getting a far more thorough brushing compared with our previous regular brushing attempts.
I highly recommend this kids toothcare range!
The Silicone Tooth & Gum Brush and the Buzzy (electric) brush look great too, and the toothpastes are all free of nasties, giving you peace of mind.
What toddler/young child doesn't swallow their toothpaste?!
Go here to check out their range
6. Baby Sensory classes
Baby Sensory is a fast-growing franchise throughout Australia, specializing in classes & parties for your little ones!
Baby Sensory class bubs graduate to the award-winning Toddler Sense Activity program, offering them a magical, multi-adventure experience in a safe and happy environment.
No special deals but I just had to include this one!
Go here to see where there's a class near you.
7. Finn & Emma
This organic baby wear range is just too gorgeous!
100% organic cotton, eco-friendly dyes, and all natural wood products (their toys are also really gorgeous, and unique), bouncers, plus beautiful macrame bassinets & baby swings!
All produced in fair trade settings that focus on social and economic independence for local people, women especially, working to provide for their families in a safe and fair environment. Yay!
Check out their range here
8. ezpz
The essential silicone sticky eating mat. Have you noticed that sticky bowls & plates NEVER stick? Enter the sticky mat, and yes they do actually make mealtimes easier.
These come in the Happy Mat, Happy Bowl or the Share Bear – very cute. The various little compartments work well for dips & a variety of foods
9. Ergobaby
I'm pretty sure these are my favourite baby carriers & many mums will agree – super duper comfy for both mum & bub, ergonomically designed to protect babies hips and they come in so many different functional designs & styles to suit EVERYONE.
Their new Omni 360 is fantastic!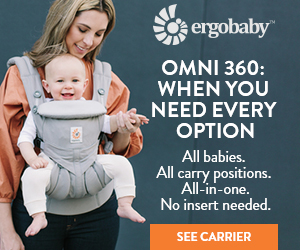 Go here

to check out their full range of baby carriers, shipping is FREE!
Ergobaby is offering 25% Off their Newborn Baby Bundle if you use this link!
Or you can get 10% off any order by using this coupon code jo8KbuYBBM, valid until September 30th, 2018.
10. The Joolz Pram
This is the pram I want if we did it all again! Choose your base & design your own by choosing your preferred features
The Joolz is quite new on the market, so watch out for their e-commerce store coming soon.
What About You?
Have you tried any of these gems? I'd love to hear your experiences & your faves.
Like this Article?